HARRIS Kenneth
Cortex Lab, UCL, London, United Kingdom
recommender
Recommendations:
0
Review:
1
Review: 1
02 Sep 2021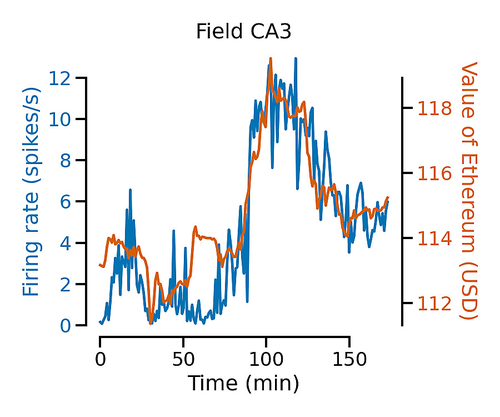 Neurons in the mouse brain correlate with cryptocurrency price: a cautionary tale
Can a mouse understand the crypto market?
Recommended by Hernando Martinez Vergara based on reviews by

Kenneth Harris

,

Anirudh Kulkarni

and 1 anonymous reviewer
Nowadays it is pretty much accepted that in animals with a nervous system, neural activity leads to behaviour. This framework is very useful to ultimately find a satisfying explanation of how and why animals behave, as it implies that there is a causal relationship between neuronal spiking and muscle and gland activity. In order to get closer to this causation, a common approach in neuroscience is to find correlations between behavioural variables and neuronal activity. Dr. Meijer's manuscript "Neurons in the mouse brain correlate with cryptocurrency price: a cautionary tale" [1] serves as a proof of concept that neuroscientists need to be careful about the statistical tests they use when looking for these correlations.
In this work, the author considers two recent datasets containing signals that display slow continuous trends over time: neuronal spiking activity from 40,100 neurons, and Bitcoin and Ethereum prices. When testing for correlations between the activity of individual neurons and the simultaneous fluctuations of cryptocurrency prices, he finds that over two thirds of the neurons correlated significantly, and that classical corrective conservative methods still result in one third of the neurons showing correlation. In order to estimate the true false discovery rate of these type of comparissons, the author tested two statistical methods shown to work for simulated data [2]. He shows that also for this large-scale dataset, both the session permutation and the linear shift method manage to reduce the number of correlated neurons to statistically-acceptable levels. Additionaly, the author goes on to show that it is the slow time constant of the crypto prices that are the root for the initial correlations. This work serves as an example for how mislead scientists can be if proper statistical tests are not applied in order to avoid "nonsense correlations" with neuronal data, and it aims to increase awareness about this problem in the neuroscience community.
This rigorous and yet entertaining work can now be added to the collection of cautionary tales that include a dead salmon understanding human emotions [3] and rat cortical neurons predicting stock market prices [4]. At the very least, it can be a piece of advice for Elon Musk to wait for more evidence before merging two of his new recent interests.
References
[1] Meijer, Guido. (2021). Neurons in the Mouse Brain Correlate with Cryptocurrency Price: A Cautionary Tale. PsyArXiv, ver. 3 peer-reviewed and recommended by Peer Community in Circuit Neuroscience. https://doi.org/10.31234/osf.io/fa4wz.
[2] K. D. Harris. (2020). Nonsense correlations in neuroscience. bioRxiv. 402719. https://doi.org/10.1101/2020.11.29.402719
[3] http://prefrontal.org/files/posters/Bennett-Salmon-2009.jpg
[4] T. Marzullo, C. Miller, and D. Kipke. (2016). Stock Market Behavior Predicted by Rat Neurons2. Annals of Improbable Research 12, 401. PDF Link